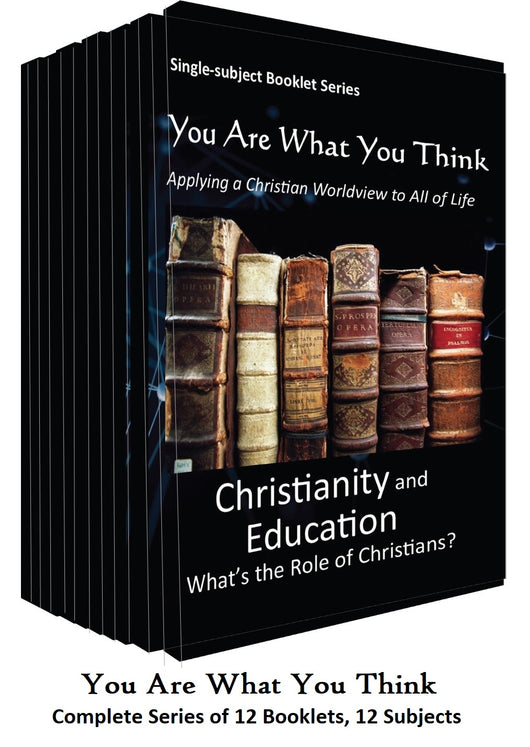 Complete Set - "You Are What You Think" Worldview Booklet Series (single-booklet series)
Regular price $120.00 $89.00 Sale
Extracted from our You Are What You Think textbook series, each booklet focuses on one of the twelve biblical worldview topics:
Politics, Sociology, Education, What IS a Worldview?, Psychology, Science, Economics, History, Law, Theology, Philosophy, and Ethics.
Designed for adults and teens, each booklet averages only 40-50 pages and can be read in 1-2 sittings. Inexpensive and highly practical for answering today's hot-topic questions through the lens of Scripture as applied to real life. Study questions follow every chapter, making it a great tool for students in a high-school or church setting, as well as for adult studies.
When addressing each topic, we define the biblical doctrines in that area as well as those of the competing worldviews that Christians are being pummeled by, in many cases, succumbing to. Incorporating history, statistics, and common logic, our unique "compare and contrast" approach guarantees that the reader is forced to critically think through the ideas himself.
Great for personal growth, group studies, or for sharing with friends. 
As a freshman in college, I am continually bombarded with secular thought.  This series has really prepared me to stand firm in my Christian beliefs.  I believe that I can give an answer to anyone who asks me about my faith. This is the best worldview study that I have used.  
- Caitlin    (Avondale, Arizona)
See more Reviews HERE