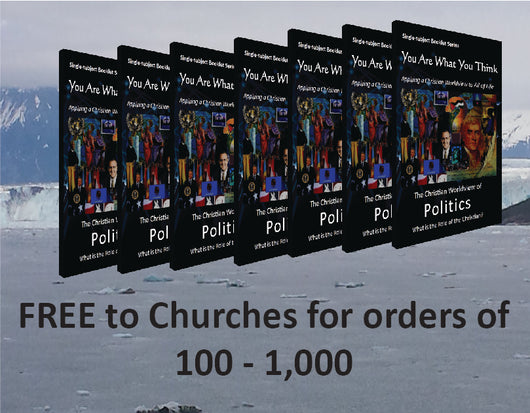 FREE "You Are What You Think Worldview" 2020 Election booklet - Politics - PROMO pack of 100
Regular price $45.00 $0.00 Sale
This free offer has expired. Individual copies of this booklet are available

 

HERE

 

at the regular price. 
Promotional - 100+ Booklets FREE

Your church can receive up to 1,000 FREE booklets with this offer (valid until Oct. 25, 2020) 
NOTE: These booklets are packed 100 per case. ORDERING:
(Example) If you need

400,

enter the quantity

4

at the Checkout.

IF YOUR CHURCH WILL GIVE THEM AWAY TO THEIR CONGREGATION, WE WILL PROVIDE THEM FREE.


ABOUT THIS BOOKLET: What does the Bible say about Christian involvement in politics? What happens when Christians don't participate?

Is the doctrine of "Separation of Church and State" supported by either the Constitution of the U.S. or the Bible? Are pastors required to be silent in the pulpit over political/social issues by either the State or the Bible? Is there any arena of life that is not sacred to God?
First come, first serve. Limited quantities available!
For quantities of 100 or more, please leave us your phone number so that we may verify your order before sending it out to you.